Aby se vám do aplikace Boldem správně načítaly údaje z vašeho webu (e-shopu či jiného systému), je zapotřebí si web přidat v části Nastavení/weby a na stránky svého webu vložit speciální kód.
Pokud váš web provozujete na platformě Shoptet nebo Upgates, použijte k propojení níže uvedené postupy:
Funkce sledování aktivity na webu je součástí tarifu Profi. Pokud využíváte základní tarif Standard a přejete si využívat sledování aktivity na webu, kontaktujte našeho obchodního zástupce.
Jak propojit web s účtem Boldem
Abyste mohli sledovat aktivitu vašich příjemců na webu v účtu Boldem, zobrazovat na vašem webu sběrné formuláře, případně do účtu Boldem přenášet další data, je zapotřebí provést propojení s Boldem.
Log into the Boldem app.
Select Settings from the left-hand menu and click Websites.
On the right side of the page, click Add website.

Enter the URL of your site's domain and click Add website.
Important: Enter only the base domain of your website, regardless of where you intend to insert the tracking code. For example, if you plan to embed the code at https://www.example.com/eshop/, simply enter https://www.example.com in the URL field, excluding the path.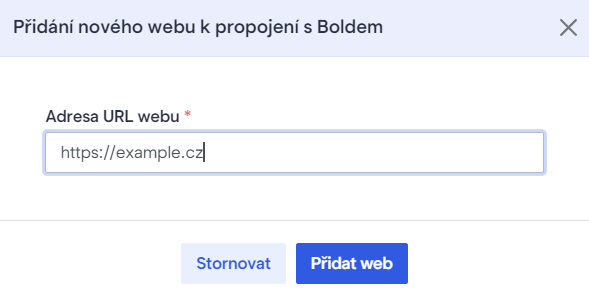 A code will be displayed, and you can copy it to your clipboard either by clicking the copy icon or by manually copying it.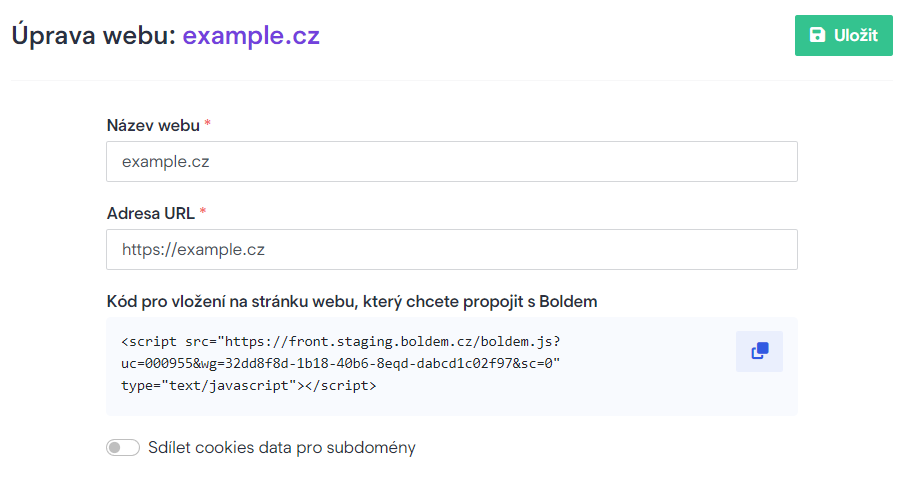 Embed the code on your website's pages where you want to track visitor activity or display forms. Ideally, you should place the code in the header of the page.

Jak přenést data z webu do Boldem
Abyste mohli sledovat aktivitu příjemců na svém webu a pracovat s dalšími daty, je zapotřebí vložit do stránek kód ve skriptovacím jazyce JavaScript. Přehled událostí a příklady volání naleznete níže.
List of events
| Event | Description | Parameters |
| --- | --- | --- |
| Boldem.identifyVisitor(email) | Matches an email address with the current visitor. | email – string – required (an email address of the current visitor) |
Sample call:
Boldem.identifyVisitor('jan.novak@boldem.cz');
| Event | Description | Parameters |
| --- | --- | --- |
| Boldem.updateCartContent(items) | Sends information about the content of the cart. | Items – CartItem[] |
CartItem parameter properties:
{
    "amount": 2, // Množství produktů v košíku.
    "name": "Product item name", // Název produktu v e-shopu.
    "url": "https://example.com/eshop/url-of-item", // Adresa URL produktu v e-shopu.
    "code": "CodeOfItem", // Jednoznačný identifikátor produktu v e-shopu.
    "productImageUrl": "https://example.com/url-of-items-image", // Adresa URL obrázku produktu v košíku.
    "price": 100.00, // Cena bez DPH za jednotku produktu v košíku.
    "priceVat": 121.00, // Cena včetně DPH za jednotku produktu v košíku.
    "currency": "CZK", // Měna ceny produktu v košíku.
    "category": "Category of item", // Kategorie produktu v e-shopu.
    "manufacturer": "Manufacturer of item", // Výrobce produktu v e-shopu.
    "variant": "Variant of item" // Varianta produktu v košíku.
    "customFields": {customField1: "item"}, // Doplňující informace k produktu v rozsahu 1-5, customField1 - customField5, pouze textove hodnoty
}

Sample call:
    Boldem.updateCartContent([
    {
        "amount": 1,
        "code": "1",
        "name": "Proužky Accu-Chek Performa, 50 ks",
        "price": 226.00,
        "priceVat": 260.00,
        "currency": "CZK",
        "url": "https://www.zdravicobavi.cz/testovaci-prouzky-accu-chek-performa-p1",
        "productImageUrl": "https://www.zdravicobavi.cz/product-images/snimek1_2.jpg",
        "customFields": {"customField1": "vlastni pole polozky kosiku"},
    },
    {
        "amount": 2,
        "code": "1",
        "name": "Inzulinové jehly QFINE 6 mm, 100 ks",
        "price": 170.00,
        "priceVat": 200.00,
        "currency": "CZK",
        "url": "https://www.zdravicobavi.cz/testovaci-prouzky-accu-chek-performa-p1",
        "productImageUrl": "https://www.zdravicobavi.cz/product-images/snimek1_2.jpg"
    }], 
    {"customField1": "vlastni pole kosiku"}
);


Event
Description
Parameters
Boldem.orderFinished(orderId, email, params)
Sends information about the completion of the order.
– orderId – string – povinný (jednoznačný identifikátor objednávky v e-shopu)

– email – string – volitený (e-mailová adresa zákazníka)

– params – object – volitelný (detailní informace o objednávce)
Sample call:
Boldem.orderFinished('7917');
Boldem.orderFinished('7917', 'jan.novak@boldem.cz');
Boldem.orderFinished('7917', 'jan.novak@boldem.cz', {
    'deliveryInfo': 'Osobní odběr',
    'paymentInfo': 'Hotově',
    'state': 'Nová',
    'phone': '+420775123456'
});
Event
Description
Parameters
Boldem.pushEvent(name, data)
Sends information about your custom event
– Name – string – mandatory (custom event name)

– Data – object – optional (custom data)
Sample call:
Boldem.pushEvent('FormSent',
    {
        "firstName": "Jan",
        "lastName": "Novák"
    }
);